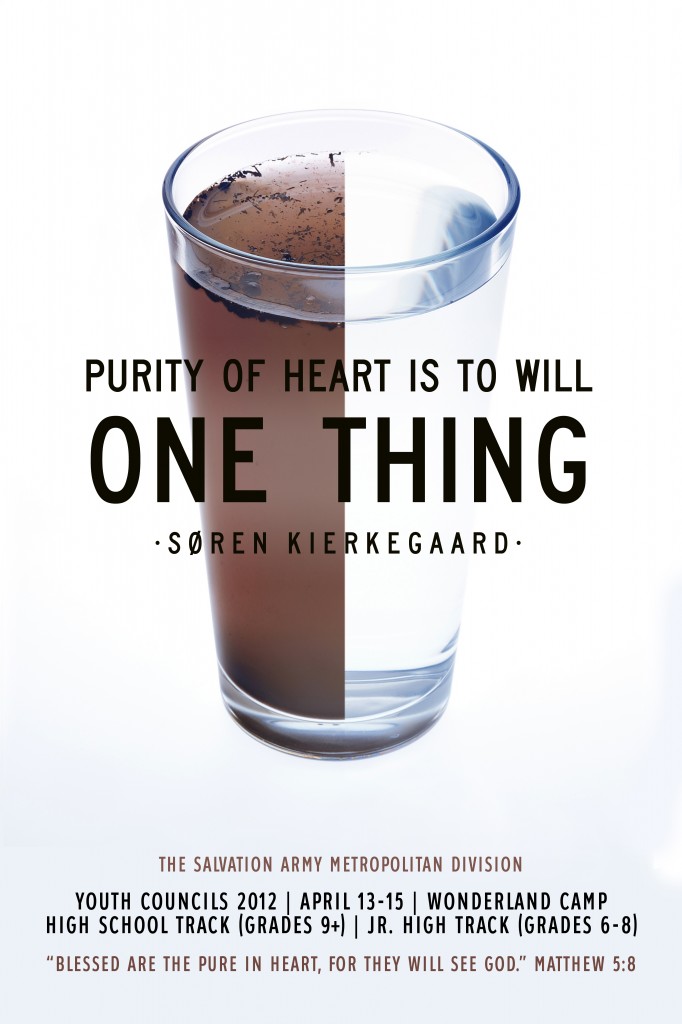 As you know, Youth Councils 2012 is coming up. The theme for this year is, "Purity of heart is to will ONE THING." We're going to be dissecting exactly what it means to be pure just as God wants us to be. In preparation for that, I've made a commitment to pray everyday since last week until April 13 (when YC starts) for the weekend, and everyone involved.
It's been a pretty powerful experience thus far. The thing I've enjoyed most about it is the different aspects of purity that God has lead me to in His Word. This morning, at 11:45am, God lead me to John 8. It's a familiar story of the woman caught in adultery. I've read it a ton of times, even preached on it before. I wouldn't say God helped me to see something I've never seen before, or that it was a completely different experience this time around. Really, God just helped me to grow deeper into truths I've known before. I just know them better. I wanted to share what I learned and heard here.
To start, go ahead and read the story, found in John 8:1-11:
1 But Jesus went to the Mount of Olives. 2 At dawn he appeared again in the temple courts, where all the people gathered around him, and he sat down to teach them. 3 The teachers of the law and the Pharisees brought in a woman caught in adultery. They made her stand before the group 4 and said to Jesus, "Teacher, this woman was caught in the act of adultery. 5 In the Law Moses commanded us to stone such women. Now what do you say?" 6 They were using this question as a trap, in order to have a basis for accusing him.
But Jesus bent down and started to write on the ground with his finger. 7 When they kept on questioning him, he straightened up and said to them, "If any one of you is without sin, let him be the first to throw a stone at her." 8 Again he stooped down and wrote on the ground.
9 At this, those who heard began to go away one at a time, the older ones first, until only Jesus was left, with the woman still standing there. 10 Jesus straightened up and asked her, "Woman, where are they? Has no one condemned you?"
11 "No one, sir," she said.
"Then neither do I condemn you," Jesus declared. "Go now and leave your life of sin."
To start, it's such a gripping story, mostly because each one of us can identify with that woman, whether we want to admit it or not. Sure, not all of us have committed adultery, but each one of us longs to know that Jesus doesn't condemn us. We all want to know that Jesus is on our side. And the truth is, He is for us. He wants us to give up our lives of sin.
Before I go any further, I should probably mention how God lead me to John 8 in the first place. At the beginning of the prayer time, I just felt compelled to pray for those who would be coming to Youth Councils who had already "crossed the line" in terms of purity. You know what I mean. Those who have already had sex and needed to figure out how to recover from that. So as I was praying, God lead me directly to John 8.
Moving on. First of all, I want to clarify that I actually think the idea of one "crossing the line" when one has had sex is a false perception of what purity is all about. The whole idea of purity isn't just about trying to define how far is too far. It's not just about trying to figure out what "the line" is, and then doing everything to avoid it. It's actually kind of the opposite.
Instead of purity being about not doing something, it's about pursuing something. It's about deciding to pursue the life God created and designed for you to live; a life lived to the fullest. And that's what Jesus was after when He was talking to the woman in John 8. His final response in verse 11 says it all. He wanted her to leave her life of sin so that she could pursue life the way God intended it.
Instead of it being a passive, non-committal type of existence, it's a passionate, forward motion pursuit of God. Take a look at Philippians 4:8-9:
8 Finally, brothers, whatever is true, whatever is noble, whatever is right, whatever is pure, whatever is lovely, whatever is admirable—if anything is excellent or praiseworthy—think about such things. 9 Whatever you have learned or received or heard from me, or seen in me—put it into practice. And the God of peace will be with you.
This is at the end of the Apostle Paul's letter to the church located in Philippi, and he tells them whatever you can think of that is true, noble, right (i.e. not sinful) go and do that. Stop living a life of sin, and pursue these other things.
In Colossians 3:5-15, Paul basically says the same thing, just in greater detail:
5 Put to death, therefore, whatever belongs to your earthly nature: sexual immorality, impurity, lust, evil desires and greed, which is idolatry. 6 Because of these, the wrath of God is coming. 7 You used to walk in these ways, in the life you once lived. 8 But now you must rid yourselves of all such things as these: anger, rage, malice, slander, and filthy language from your lips. 9 Do not lie to each other, since you have taken off your old self with its practices 10 and have put on the new self, which is being renewed in knowledge in the image of its Creator. 11 Here there is no Greek or Jew, circumcised or uncircumcised, barbarian, Scythian, slave or free, but Christ is all, and is in all.
12 Therefore, as God's chosen people, holy and dearly loved, clothe yourselves with compassion, kindness, humility, gentleness and patience. 13 Bear with each other and forgive whatever grievances you may have against one another. Forgive as the Lord forgave you. 14 And over all these virtues put on love, which binds them all together in perfect unity.
15 Let the peace of Christ rule in your hearts, since as members of one body you were called to peace. And be thankful. 16 Let the word of Christ dwell in you richly as you teach and admonish one another with all wisdom, and as you sing psalms, hymns and spiritual songs with gratitude in your hearts to God. 17 And whatever you do, whether in word or deed, do it all in the name of the Lord Jesus, giving thanks to God the Father through him.
Notice the words "put to death" (i.e. stop doing this), and the thrust of verses 12-17. The whole idea is letting go of an old way of life, and actively pursuing something new. And to be perfectly honest, this is really the idea behind most (if not all!) of the writing in the New Testament.
So, when you think about purity, don't just think about things you're not supposed to do. That's just half of the picture. It's so vitally important to remember that purity is so much more than that. It's an opportunity, a choice, a decision to actively live the way God has created you to live.